---
Our Team
CHEF DERRICK Hoare

Proprietor/Chef
As far back as I can remember I have always chosen a unique path. My search for the eclectic has led me in a number of wonderful directions and to some very satisfying places. I have spent the majority of my adult life in the service of seniors, have played professional sports, flown planes, mediated labour disputes, acted in TV and movies, and trained as a Chef.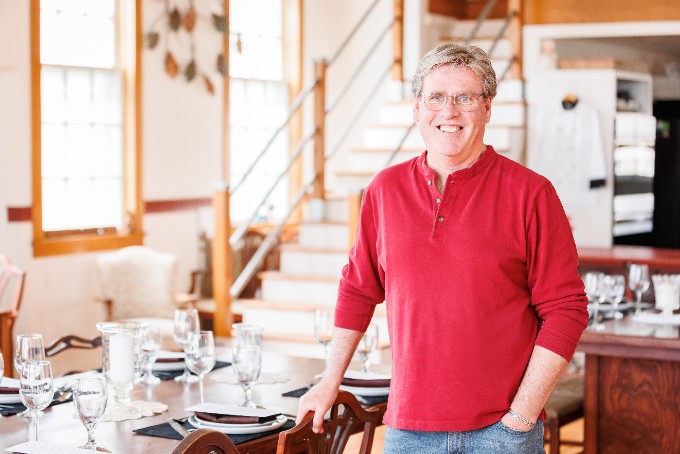 I was born and raised in small town Ontario, and grew up loving the outdoors. There is something special about being outside and at one with nature. The earth speaks to us through the fields, mountains, seas and rivers. All my life I have heard and seen the beauty of nature, and I really think that is why I have settled here on Prince Edward Island.
PEI is also known as the birthplace of Canada, and I love that the idea of creating a nation was born on this small Island. Even though I am "from away", I have made my home here. I have had the opportunity to put my hands to work making lobster traps, earning my Cork designation on a 45' Hutt fishing boat, helping to catch 4,000 lobsters, being part of a crew that caught both 400 lb. and 800 lb. tunas, making spat collectors for oyster farming, cleaning my fair share of eel nets, and most recently helping to build a barn. I relish opportunities to learn hands-on from Island fishers and farmers, and experience the hard work and ultimate joy of cultivating the food we serve at The Table Culinary Studio.

My most cherished pastime is creating culinary events for friends and family using fresh Island ingredients from the sea and red soil. I enjoy gathering people from different places together at The Table to share an Island experience built on incredible food, colourful stories and lots of laughs. My goal for The Table is to give you an Island culinary experience that will inspire you to recreate it and share it with your friends and family.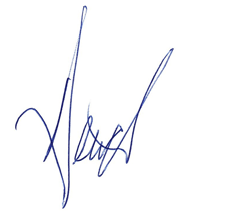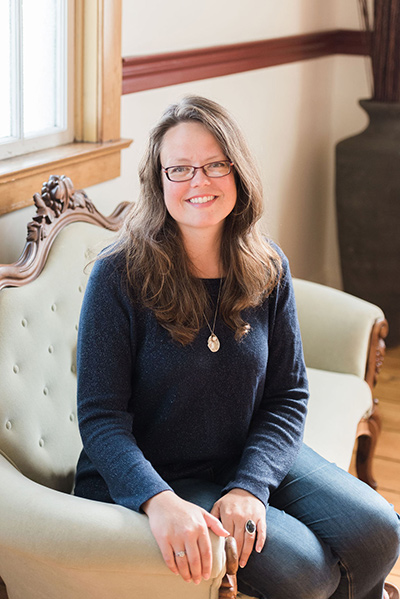 CHristine Morgan

General Manager
Prince Edward Island is my happy place. For me is it is a place of community, hard working people, breathtaking natural beauty and as Anne so aptly put it, plenty of "scope for the imagination". Along with Chefs Derrick, Hunter and Alex, I take great joy in working in partnership with local farmers and fishers, and sharing the restored church, our food and Island stories with everyone who visits The Table.
Originally from Toronto, I have Maritime roots, with family still living in Nova Scotia where I spent many fun-filled summers. With an education in archaeology and work experience in corporate office administration, I have been a part of The Table since it's inception. I organize, implement and help run dinners and events. It is my heartfelt goal to make each moment of your time with us into a wonderful memory.
I hope you will join us at The Table and let us share with you our love of the Island, it's incredible food and the amazing farmers, fishers and producers who make it all possible.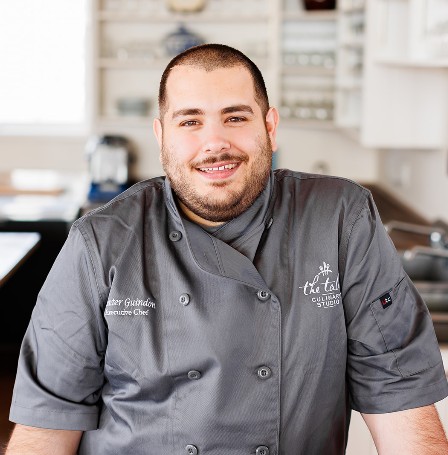 Chef Hunter Guindon

Executive Chef
Chefs on PEI might be the most privileged in the world. We live alongside the most passionate food producers, on a floating farm surrounded by some of the worlds most pristine waters. My duty as a Chef is to show our guests why the hard work of our farmers, fishers, culinary artisans, and soil is so incredibly special.
From a young age food was more than just sustenance for me. My love for food quickly turned into an obsession. I want to know where it came from, how it was grown, who grew it, and how it ended up in my kitchen. The relationships I get to make with both the food producers, and the ingredients on PEI feeds my soul. Food sovereignty, seasonality, sustainability, and locality is incredibly important to me.
Originally from Peterborough, Ontario, I was drawn to PEI by its hyper-local culinary scene. Upon graduating from the Culinary Institute of Canada in Charlottetown in 2015, I was the opening Sous Chef of Fireworks at The Inn at Bay Fortune where I spent two years taming the live fires and working with some of PEI's best ingredients. After working in Whistler, BC and across Ontario, I was drawn back to PEI to spend a summer working at The Pearl in North Rustico.
My pursuit of real, local, sustainable cooking then brought me to work as the Sous Chef of the former Terre Rouge Craft Kitchen, and to the formation of Local Supper Club, a tasting menu only pop-up using 100% PEI grown ingredients.
I am extremely excited to be a part of the passionate team at The Table and to be returning as the Executive Chef this summer. I can't wait to showcase to our guests the incredible food that Prince Edward Island has to offer!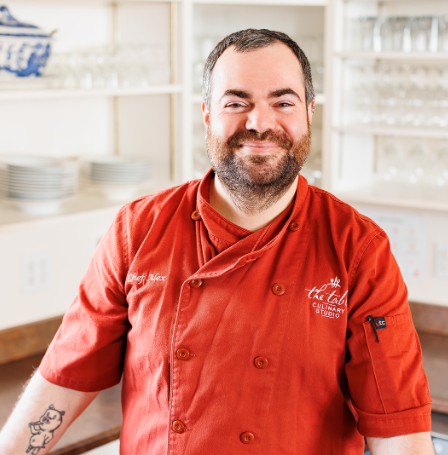 Chef Alex Bevan-Baker

Sous Chef
Food has always played a vital role in my life. Early memories of pulling carrots from the family garden, barely wiping the dirt off before snacking, to blueberry picking with my Nannie in rural Newfoundland, knowing our efforts would soon be rewarded with a beautiful pie; such are these that have engrained a mental logbook of what truly brings me happiness.
Originally from Ontario, our family moved to PEI when I was thirteen. Not knowing what to pursue after high school, I spent a year abroad on a tall ship while taking some first year science credits, which later led to attempting a biology degree. Realizing classrooms were not my fit, I left university and spent the next six months working on farms in the Mediterranean in exchange for room and board. It was then I found my calling and enrolled at the Culinary Institute of Canada in the Fall of 2011.
I was fortunate enough to complete my internship at Raymonds with Chef Jeremy Charles. That led to some wonderful experiences upon graduation such as an apprenticeship under Chef Michael Stadtlander at Eigensinn Farm, to being a part of Jeremy Charles second restaurant opening, The Merchant Tavern, and a brief stint at The Inn at Bay Fortune, where I was lucky to have met and worked with Chef Hunter. After working in New Brunswick at Little Louis and Les Brumes Du Coude, I moved back to PEI where my brother and I built a mobile wood fired oven and started a pop-up sourdough pizza business utilizing organic island produce, called Fatta A Mano.
We are truly blessed here on PEI with an abundance of world-class ingredients from land and sea. I'm both incredibly humbled and excited to be able to cook for guests at The Table this season. When I'm not busy in the kitchen, you'll find me fly fishing for trout at a nearby brook, hunting for wild mushrooms in the woods with my dog Baloo, or making my next batch of plates at the pottery studio.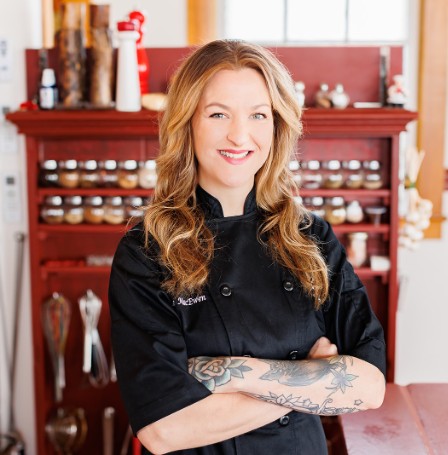 ASHLEE MACEWEN
Dishwasher/Cleaner

My love for creating started young. At 5 years old, I started baking with my elderly neighbor and family friend, Mary Brown. Those batches of Scotch cookies along with her guidance, lead me down a path of love for baking. The enjoyment of being in the kitchen continued throughout my childhood and adolescence. I started paying attention to what my family did as they cooked.
After graduating high school in Kensington, my love for fashion, thrifting and collecting vintage clothes lead me down a path as a Makeup Artist and I moved to Vancouver for training. After successfully completing my course at The Blanche Macdonald Center, I moved to Toronto. I freelanced as a Hair & Makeup Artist for the next decade focusing on film and photography. During that time, I was a server and bartender with restaurants and catering companies, and worked at a lot of large events like weddings, banquets and even travelled to nearby cities for PGA and LPGA tournaments.
While living in Toronto, I became an avid gardener. Growing food and creating dishes with those home-grown goods, sparked the passion I had as a young child. It was different and new though. It was more than baking. I cut back on freelancing as a Makeup Artist, and got a gardening job one summer. It made me the happiest I was in years. There was something to this new passion.
It was during my time working as a server at Rodney's Oyster House that I realized I wanted to pursue a career in the culinary arts and made the decision to go to pastry school. I moved back to PEI and attended The Culinary Institute of Canada in Charlottetown. Since I graduated the program in 2018, I have worked as a Pastry Chef, Sous Chef, Baker, Line Cook and Shucker. I've really enjoyed the large events and have worked with some of the best chefs on the Island like Ilona Daniel and Robert Pendergast. I love seeing a crowd enjoy themselves! I enjoy moving around the kitchen without limits. Happiness is creating with my hands to the best of my ability, to create an experience for others.
Nature is my inspiration for almost everything I do. I really enjoy taking photos of food, plants and animals. I enjoy making natural skin care and hope to expand my Apothecary line someday.
PEI truly has some of the best foods the world has to offer. I'm so excited to be part of the team at The Table this upcoming season. To see the magic happen will be a pure delight. I can't wait to learn in this unique environment with such a talented crew!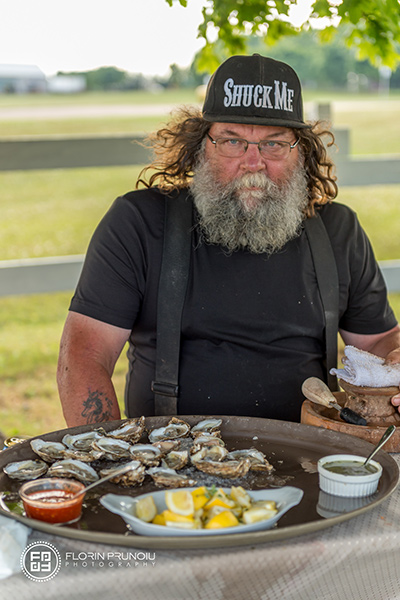 George Dowdle

Aquaculturalist
It's not uncommon to hear our neighbour and good friend George say "I'm just an oyster fisherman", but nothing could be further from the truth. George is a skilled Aquaculturalist and the owner of Green Gables Oysters, a small family-run oyster growing operation with over 60 acres of oyster aquaculture sites in New London Bay and the Southwest River.
After studying Marine Seafood Processing at Holland College, George has gained almost 40 years of first-hand experience and knowledge in Aquaculture, working in Island fisheries including lobster, fish, mussel, eel and oyster fishing. He is a long-time resident of New London, and an important part of the Team at The Table. George joins us for our special events, shucking his beautiful Green Gables Oysters while sharing salty stories and oyster knowledge. He has even been called "The Oyster Oracle". George personally fishes all of the oysters served at The Table less than an hour before each meal. You won't find any fresher oysters than these and the mignonettes he creates to accompany them are divine!