---
Experiences

A Taste of the Island
Our culinary adventures embody our commitment to community by serving each of our guests the most authentic and fresh version of Island cuisine imaginable. "Locally Yours", "The Chef's Table" and "Culinary Ceilidh" have been crafted to ensure our award-winning Chef has the creative freedom to shape dishes that are entirely inspired by our producers (often our neighbors!) and the bounty of ingredients available for harvest throughout the season; the very food that has made Prince Edward Island "Canada's Food Island."
To achieve our culinary vision, a new menu will be released on the Sunday of each week. With only 27 seats available, our guests can delight in knowing that their spot for a truly unique, one-of-a-kind experience is reserved and revel in the anticipation of what's to come. With a focus on the freshest of fresh Island seafood, artisanal butchery, foraged foods, and hyper-local produce, you can have confidence that every dish will be your new favourite.
We re-open for the season on May 17th, 2022!
Remember to book early to avoid disappointment!

Reservations are required as there is limited seating available each evening.
Reservations for the 2022 season can be made online or by phone at 647-920-1542
---
Locally Yours
Tuesday to Saturday
May 17 to June 12 & September 19 to October 16
Join us for an intimate 4-course meal of refined dishes perfectly prepared for your indulgence by Executive Chef Hunter Guindon. Experience Prince Edward Island foods as you never have before, exploring the flavours of the season while discovering the culinary versatility of local ingredients grown, harvested, foraged and produced here on the Island.
Make yourself at home and enjoy some of our Island hospitality as Chef Hunter creates your meal and presents each course. Listen as he shares the inspiration for each dish and describes the source of ingredients, then speak with him personally as he visits your private table to answer questions and tell stories.
Each week will feature a new menu of dishes designed with understated sophistication to honour the freshest ingredients available and pay tribute to the hard-working farmers, fishers and food artisans who bring these foods from field to the table.
Treat your tastebuds to a taste of local freshness!
Doors open for drinks at 6:00pm. Dinner experience begins at 6:30pm.
One Seating, Prix Fix, Set Menu: $75/person +HST
The Chef's Table
Tuesday to Saturday
June 13 to September 17
Join us for an exclusive seven-course tasting menu of meticulously crafted dishes expertly prepared by Executive Chef Hunter Guindon to showcase the rich bounty of Prince Edward Island's fished, farmed, foraged and produced ingredients.
Each course is personally plated and presented by Chef Hunter, who will tell you about his culinary inspiration for each dish and about the farmers, fishers and producers responsible for providing each ingredient. Enjoy a private discussion with Chef Hunter when he visits your table throughout the night, allowing you to ask questions, explore the richness of our North Shore food community and discover some culinary secrets from our kitchen.
Whether you are a consummate foodie or a local food enthusiast this unique epicurean event is one you will savour from beginning to end. With a new menu every week, as new fresh ingredients become available, you will be tempted to visit us again and be delighted by different flavours and dishes throughout the season.
We can't wait to welcome you to the table!
Doors open for drinks at 5:30pm. Dinner experience begins at 6:00pm.

One Seating, Prix Fix, Set Menu: $125/person +HST
Culinary Ceilidh
Sundays
June 19 to September 18
You're invited to a good old-fashioned Prince Edward Island party!
Join us for an evening with Michael Pendergast, an iconic Island entertainer who blends the traditional folk sounds and stories of PEI with contemporary songs and themes. With a wink and a nod to the Island tradition of hospitality and warmth, Michael creates a unique and memorable East Coast musical experience as you enjoy a true farm-to-table culinary experience of the freshest Island ingredients.
The evening begins outside in the garden where you can take in the beauty of the rural vista while enjoying drinks, charcuterie and local bites to musical accompaniment. Things get lively when we move indoors for you to sit down at your private table to a sumptuous five-course meal presented by the Executive Chef and complemented by stories and tunes from Michael. Tap your toes and sing along during the meal as you create memories to last a long, long time!
Doors open at 5:45pm. Experience begins at 6:00pm.
In the event of inclement or unseasonably cool weather, this dinner will be hosted entirely indoors.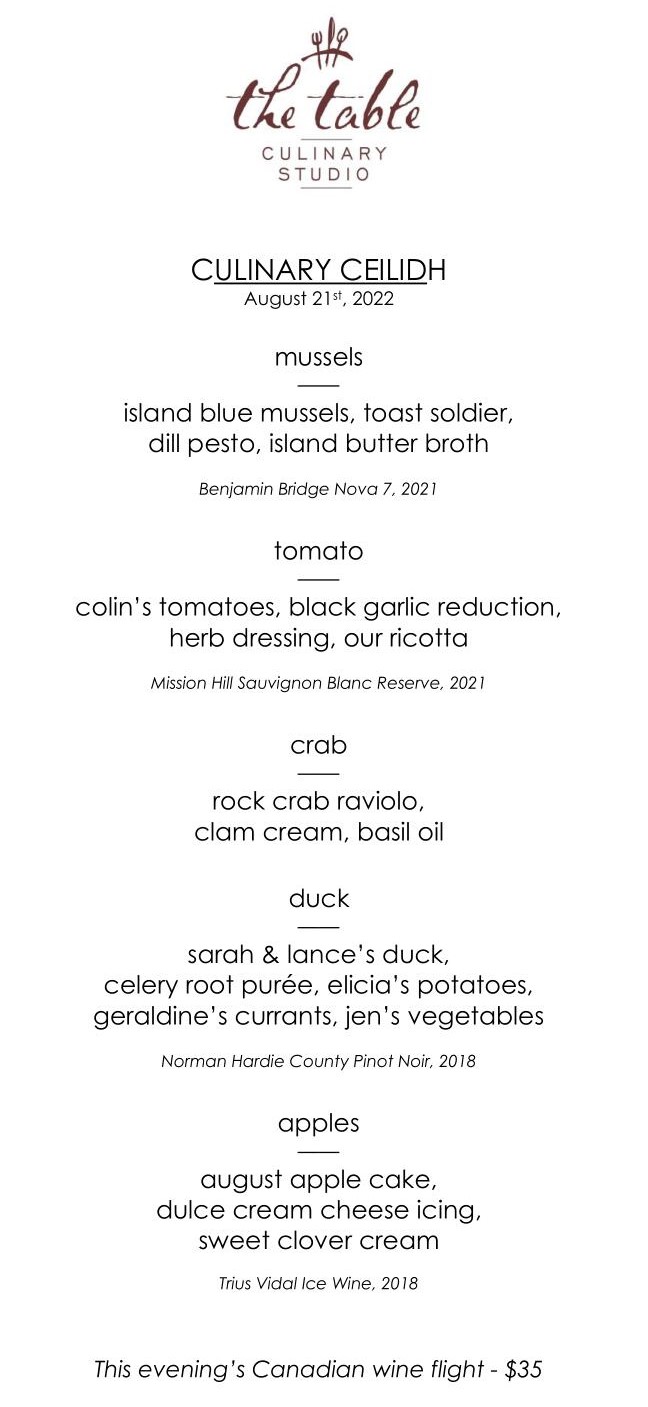 One Seating, Prix Fix, Set Menu: $125/person +HST
Cancellations

We require a minimum of 72 hours notice to cancel a reservation.
Reservations cancelled less than 72 hours from the date/time of the reservation will be charged $50 per person.
Now of course, we get it, things happen, plans change. We understand that it is sometimes necessary for guests to cancel reservations due to unforeseen circumstances. Cancellations made well in advance can often be filled from our waitlist however cancellations made with no or short notice (less than 3 days before a dinner) become difficult to fill. If you need to cancel, please call or email the restaurant to let us know as soon as possible.
Why is it important to us, and every small restaurant, that you commit to your reservation?
The Table's evening dining experiences are unique and intimate, offering seating for only up to 27 guests each night. Advance reservations are required because each meal is prepared exclusively for our booked guests. To maintain and support sustainability, we order exactly the right amount of food from our local farmers and fishers to guarantee that you are satisfied and receiving the freshest ingredients possible while being conscious of food waste, a cause that is very important to us. We structure our seating to ensure that not only will your group be able to fully enjoy your dinner experience, but that we are able to meet our weekly goals in order to keep our doors open.
We are supported by a food community. All of us at The Table, and our tight-knit group of fishers, farmers, foragers, and food artisans work together to ensure we can all help each other prosper. Our prosperity is aided by your courtesy and support. We take great care and respect in preparing to entertain you for the evening, and we ask that you grant us that same respect by honouring your commitment to your reservation.
We're not just a restaurant, we're a once a night happening! You won't want to miss it.
Thank you for your consideration.